Where we learn many great things! Our homeschool classroom.
Homeschool Classroom Posts
Where I spend a great deal of my time! Our laundry "room".
Laundry Room
Living Room
Our living room... a room that is NOT off limits to kids or my dog. My sweet, sneaky Golden Retriever can be found snoozing on my couch most days.
My kids love to open a bin of toys and play in this room... transforming it from tidy to treasure filled!
My oldest daughter's room. A room still in the works. Check back... sometime in the future there will be some fun changes. (One fun change has been her desk, still more to come.)
Oldest Daughter's Room
Daughter and Son's Room
More of our Created Home to come. Check back again, you are welcome in our home anytime!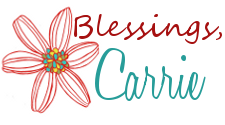 Pin It Now!