He Is Risen! Though the letters have been loved off, at one point this cross did read those marvelous words of truth!
Here is a fun Easter craft you could do with your kids or if you teach Sunday school, the kids in your class. I came up with this last Easter and had my kids and Sunday school kids do this and they really enjoyed it. This does not have to be limited to just Easter. Change the colors and the choice of words and you have a great craft for anytime.
The supplies you will need:
Sparkle foam "paper" found at any craft store. I found mine at Hobby Lobby.
Hole Punch
Ribbon (I used wrapping ribbon)
A Cross Template to cut out the Cross shape. You could draw it or download something from the Internet.
Different Colors of Tissue Paper
Contact Paper
Foam Letters
Ribbon to hang the Cross in a window
How To:
Fold your sparkle foam paper in half. Place your Cross template in the center and trace around it. Cut out the Cross.
Punch holes around the edges. Punch two holes at the top to hang the cross in a window. Cut tissue paper into square pieces.
To make the stained glass center you will need to fold a piece of contact paper in half to fit the inside of the sparkle foam. Then cut the contact paper to fit.
Peel away half of the contact paper. Have the kids lay the different color tissue paper on the sticky side of the contact paper just over the cross shape. You need the edges free so the contact paper can stick to its self. Peel the rest of the contatct paper off and stick them together.
Then have the kids sew the wrapping ribbon through the holes, attaching the three pieces (foam, contact paper and foam) together. Tie a ribbon at the top two holes for hanging.
Have the kids add the words of your choice to the sparkle foam. My choice since this was an Easter craft, He Is Risen!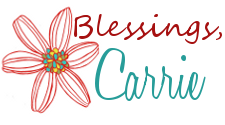 Pin It Now!