For these bags I began with a ready made tote bag that can be purchased at Hobby Lobby or for a tad cheaper at Walmart. Walmart has a package of 3 totes for under $6.00, that is a great deal.
Supplies:
Tote bag
1/4- 1/2 yard each of 2 coordinating fabrics for the ruffles (I always get extra fabric so I chose to go with 1/2 yd. each.)
Ribbon
Fabric for flowers, if doing fabric flowers
Thread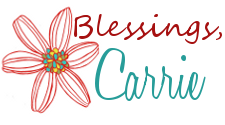 Pin It Now!