So many girls... so many backpacks! Two and two and who is who? With four little girls and two of each kind of backpack I knew I needed a simple way of telling the bags apart. As well as for even the youngest child who can not yet read, to identify her own bag.
I had a bigger plan in my head as to how I would decorate backpack tags, but true to form, I ran out of time and needed something fast and easy!
Here is what I came up with.
Then I found these self laminating tags in the travel section at Target. It was $5.00 for a box of four.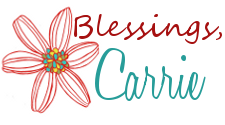 Pin It Now!