One of our family traditions that bring smiles and excitement to our kids year after year is the night we read,
The Legend of the Candy Cane
. We open up our "matching" pajamas, run to the tree and select a candy cane off a branch. Then to the table we go for home made hot coco, topped with whip cream and marshmallows. With candy canes in hand, we stir our hot coco creating a yummy peppermint coco. As we stir and sip we listen as daddy reads to us the meaning of the candy cane. "J" for Jesus, the red stripe the blood shed for us and the white stripe symbolizing the washing away our sins leaving us white as snow.
I cherish our tradition as I think back over Christmases past, remembering the joy and love we share as a family. Family traditions help create long lasting memories. Memories that bring up feelings of joy, love, meaning and belonging.
I hope that in this busy season of Christmas you too are stopping and taking time with your loved ones and creating memories of peace, joy and love.
Merry Christmas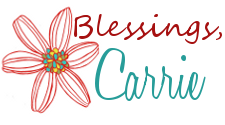 Pin It Now!