Years ago friend of mine shared with me a very easy recipe for chicken in the crock pot. All you do is add a jar of salsa to the boneless, skinless chicken breasts in your crock pot and then shred the chicken when done. How simple is that? Then serve in taco salad, burritos, tacos, quesadillas, turn into nachos or whatever else you come up with. Then recently another friend shared a similar recipe with me. The difference is, at the end add a block of cream cheese! I then add a can of corn and a can of black beans. Today I only had half a block of cream cheese so I added some sour cream as well, along with the corn and black beans. How you choose to eat this mixture is up to you. We have had it with chips and it was delicious. Today I decieded to layer the ingredients in a baking dish. Here is what I did...
Layer of chips
Layer of chicken mixture
Layer of cheese
and repeat one time.
Bake uncovered at 350 degrees for 30 minuets.
This also would be yummy with a salad alongside. Top with avocado, tomatoes... Mexican rice on the side.... DELICIOUS!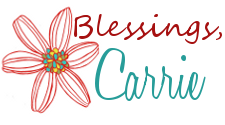 Pin It Now!