Homemade Chicken Noodle Soup is a wonderful comfort on a cold fall day. Here is a version I came up with and it is mmm mmm good! You can get as creative as you want. Switch up the noodles or veggies. Add garlic, the options are up to you.
Ingredients:
Chicken skinless boneless breasts or tenderloins
Chicken Stock/ Broth (amount depends on the serving size you desire. For a whole package of pasta you will need at least 12 cups for soup pot and 2c. for baking the chicken) Canned or bullion cubes.
McCormick Grill Mates Seasoning- Onion & Garlic
What to do:
Lay chicken breasts on a foil lined cookie sheet. Pour 2 cups of broth over the chicken

.
Season chicken with McCormick seasoning, salt and pepper. Cover tray with foil and bake 375degrees for about 40 minuets (for tenderloins if frozen). While the chicken is baking it is the perfect time to get your veggies chopped and cooking in a big soup pot
of broth. Add the herbs, salt and pepper (amount you prefer) to the soup pot of veggies and stock. Once the veggies are tender add your pasta. Chop your chicken into cubes. Add the chicken, simmer (careful not to overcook your noodles) and serve.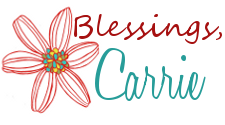 Pin It Now!