Boring cloth diapers turned adorable burp cloths is the continued subject of this post.
In my previous post I stated if you have a sewing machine and can sew in a straight line, then this is the project for you. So very simple, cute and fun. They make for great gifts too!
All you need:
Cloth Diapers
(you can find them at Babies R' Us or even Target)
Minky Fabric
or
Flannel Fabric
Coordinating Thread
Sewing Machine
Ribbon
(optional)
Piece of paper for pattern
Scissors
Straight Pins
Cut a piece of paper 7"x9" for your pattern.
Fold fabric in half, placing pattern (7" side) at the fold. Cut around your pattern. Lay your fabric on your diaper cloth and pin around the edges. (If you are adding ribbon pin the ribbon at the same time you pin the fabric to the diaper cloth.)
Now time to sew. If you are using ribbon I suggest a straight stitch (both side edges of the ribbon are to be sewn). If not adding ribbon you could use a zigzag stitch or a straight stitch. Another hint if using ribbon, cut ribbon long enough to hang over the edge of the diaper cloth. Sew the ribbon thoroughly at the end of the cloth so it does not fray. Then cut the remainder of the ribbon off once sewn.
This could not be more simple for completely darling Burp Cloths.
Another great use I have found for these cloths with my kids has been when they have a cold. When the inevitable runny nose occurs for my little ones, we use these soft burpies to wipe cute noses. I prefer my little ones to carry around a burp cloth than a soggy tissue. I also am not a fan of tissues in bed with my kids, so our solution has been burp cloths. They have loved it! It actually brings them comfort to lay down to nap or bed with a burp cloth, when their nose is runny or stuffy.
A ribbon edge instead of ruffle ribbon as seen in my previous post.
Or just minky and flannel fabric in a rectangle pattern.
Tip on buying fabric...
I always look for bolts of fabric that are at the end... not much left on them. Most fabric stores love getting rid of the ends of bolts for great reduced prices! When you take your fabric to be cut, ask what price they will give you if you take all of it. I love getting fabric for a steal of a deal!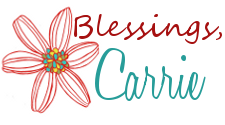 Pin It Now!