Howdy! Here it is, my sweet daughter and darling baby boy's bedroom!
My amazing mom made all of the bedding! Bed skirt and all! She is so talented and she is my MOM! I am just in love with how it turned out!
For the blank wall I have a few ideas or it just may remain bare. Still deciding on that one.
here
.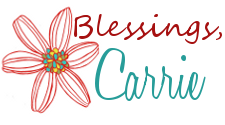 Pin It Now!