A very simple way to have craft or school supplies organized and ready to use.
I found the buckets at Target in the dollar section. I am sure craft stores would have something similar. I then bought a letter stencil to paint pen the words on the buckets. The lazy Susan I purchased from Target in the home organization section. This one is intended for use inside a kitchen cupboard. In the middle of the lazy Susan, holding the pencils is a small bottle, I think it formerly held vitamins. I tore the label off and stuck the bottle to the lazy Susan. The buckets are not attached.
I have seen a similar item pictured in the pages of Pottery Barn Kids, but the cost for the one they sell is more than what I paid to put this one together. I also had fun doing it!
The buckets I have here read:
Crayons
Scissors
Glue
Supplies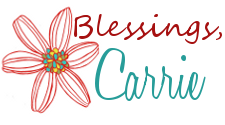 Pin It Now!