This is the closet in the kids bathroom. A bathroom used by four soon to be five kids! I knew I had to come up with some sort of order for whose towel is whose, without spending a ton in monogramming. I just needed to be creative with what I already had.
So I reduced the amount of towels for the kiddos to two or three towels a person. I assigned a different towel color to each child. Then I made hanging color coded labels for easy reference of whose towel is whose. Easy even for daddy to keep things running smooth.
For now, again using what I already had available, I put labels on bins for simple easy, no excuse here is where "this" item goes organization. I even started a bin for the new baby to hold all those little things baby needs, like nail clippers, lotion etc. Eventually I will replace the bins with something a little more attractive, but for now it gets the job done.
I have found a start toward better organization is better than waiting until things are exactly, perfectly how I picture and hope them to be.
My girls just love getting into all their hair bows to do their dolls hair. The result has been missing bows and a drawer destroyed of any organization by little hands. I chose to hang their bows inside the closet. I used a mug hook left over from our
Personalized Chore Charts
(click here). I drilled a small hole into the wall, stuck the mug hook through the top of a ribbon and then twisted the hook into the wall.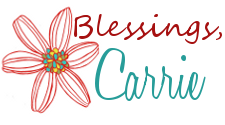 Pin It Now!