Five kids sharing one bathroom means, desperate need for organization! I had been using a color towel system
(see here)
that was working great, but I wanted something a little more personal and fun. Here is what I came up with. I am just loving how the towels turned out. I also love that my kids are enjoying hanging up their own towels and no one is left guessing whose towel is whose.
Now time for the monogram! I used my word processor to print out the font I wanted for my monogram. It is best to use a bold font.
I chose to place my monogram at the opposite, top corner of my towel. That way when the towel wraps around the monogram shows.
Because towels need to hang up to dry, I decided they NEEDED an easy hang loop! Here is a quick how I did it picture.
Are they not just lovely? It really is a simple project for a great result! Hope you have fun personalizing your towels!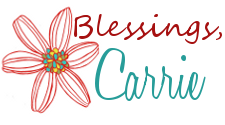 Pin It Now!