Easter is Springing upon us and I wanted to share with you one of our family's favorite traditions. Resurrection Eggs.
Before becoming a mom to my own wonderful children, my mom shared resurrection eggs with me. Years back my mom made her own eggs, treasure hunting all over town for just the right things of the right size to tell the story of Jesus' death and resurrection. Even as a twenty something year old, I was captivated by the interactive display of what Jesus has done for me.
Now that I have a family of my own, I too have shared these plastic eggs with my children. This is a captivating way of reminding children (and ourselves) what Easter is truly about. The way it works... hiding in each egg is an item that goes along with the story of Jesus' death and resurrection. The eggs are numbered to follow along with the story. I have my children each take turns opening an egg at the appropriate time. If you don't already have this as part of your family's Easter tradition, I do hope you add it in and see the joy on your little ones (or big ones) faces.
You can now buy ready made and packaged resurrection eggs at your local Christian bookstore or even online. You could even search online for tips, video and instructions on how to make your own if you want to turn this into a craft for your kiddos.
Here are some links I found of places to purchase Resurrection Eggs online. I did not check out what the shipping or tax if applicable is on any of the below stores. Hint: Whenever I purchase anything online I always check the Internet for the stores coupon codes or promotional codes. Sometimes you can get an additional percentage off or free shipping by doing this.
Christianbook.com
Deepershopping.com
Christianbookstore.net
Stevensbook.com
The treasure of truth cracked open in these eggs is way better than any jelly bean found in a plastic egg on an egg hunt. Happy (almost) Easter!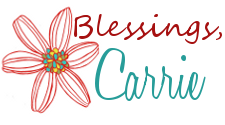 Pin It Now!