One of the baby gifts I loved receiving, is a taggie blanket. Or as I call it a taggie clutch since it is perfect for a baby to hold on to and slobber on.
A sweet baby girl is days, moments, seconds away from making her appearance in this world and I just can't wait to meet her! Maybe by the time this post publishes she has arrived... as I know her mom hopes! Dear friends of ours are having their first child (shout out to you Mandy at Madipidy
http://www.mandipidy.com/)
and it is a girl! Yay for girls! Being a mom of four girls and one baby boy... I miss all those fun baby girl things! So I sure had fun making this little taggie clutch for baby Abigail!
My Caitlin Joy picked out this cute doll that just so happens to be named Joy!
The taggie is made with a square of minky fabric and a square of flannel. I used different ribbons around the edges. On the opposite sides of the taggie clutch the ribbons are in reverse order of kind.
Baby Abigail is so loved by so many! Congratulations to a wonderful family! Our love and prayers are with you!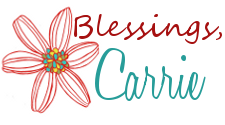 Pin It Now!